Minister – Rev. Tom Summers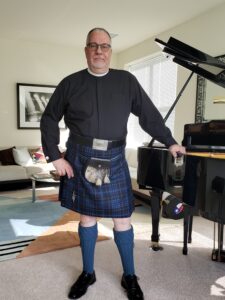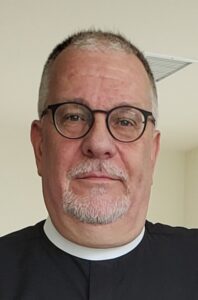 The Reverend Tom Summers is the Pastor of St. Andrew's Presbyterian Church in Lunenburg and St. Andrew's Presbyterian Church in Rose Bay, Nova Scotia. Tom has a Bachelor of Arts degree in Biblical Studies from Eastern College and a Master of Divinity degree from Princeton Theological Seminary. He was ordained as a Teaching Elder in the Presbyterian Church (USA) in 1988, and has over 30 years of experience in Pastoral Care, counselling, and Chaplaincy.  He is currently completing his requirements to be received as a Member of the Presbyterian Church in Canada.  Tom is a native of Philadelphia, Pennsylvania. He and his wife Deborah now live in Garden Lots with their cat Geneva. They have two grown daughters and 4 grandchildren. They are very happy to be settled here in this lovely part of Nova Scotia. In addition to serving as the Pastor, Tom enjoys reading, travelling and of course playing his fiddle!
Organist/Choir Director – David Findlay
David Findlay has served as organist / music and choir director in a number of churches across Canada. His 40 year career as a musician, composer, music producer and educator finally led him to beautiful Lunenburg. Moving here with his wife Janine in 2011, David continued composing for film and television and now has over 60 credits. Originally from Montreal, he is a graduate of McGill University where he earned a Bachelor and Masters of Music degrees along with a Graduate Diploma in Education (music).
Clerk of Session – Eddie Fralick
Edward (Eddie) Fralick is the current Clerk of Session and has been an elder since 1993 and member of the church for over 60 years. He is also currently the Envelope Secretary and member of the choir. Eddie has been a trustee since 2018 and is a past Sunday school Superintendent and member of the Board of Managers. A native Lunenburger, Eddie retired from Highliner foods after 31 years of service.